Featured Song:
---
To really understand more deeply the art of flamenco, Gaetano and I knew we would need to eventually go to its heart in Andalusia, Spain. The day finally came during the winter of 2010, and off we were on a plane across the Atlantic with our 7 year old boy and a childcare provider/filmmaker for a two month flamenco study.  The journey began with a visit to Gaetano's family in Sicily, then living in Sevilla to study at two flamenco schools, a day trip by ferry to Morocco, then finishing with a journey by car from Valencia to Barcelona to Madrid.
In the summer of 2011, our family returned to the Mediterranean, first with a 24 hour adventure in Lisbon, Portugal, then back to Spain for a week long flamenco intensive in Cadiz followed by another month long study in Sevilla, with weekend excursions to flamenco festivals in various parts of Andalusia. We look forward to reflecting back throughout this blog on all the amazing places with vegan treats we found in the Mediterranean so far. But for this post we will focus on just one city, Sevilla, and really just one little area where we literally and culturally found home, la Alameda de Hercules.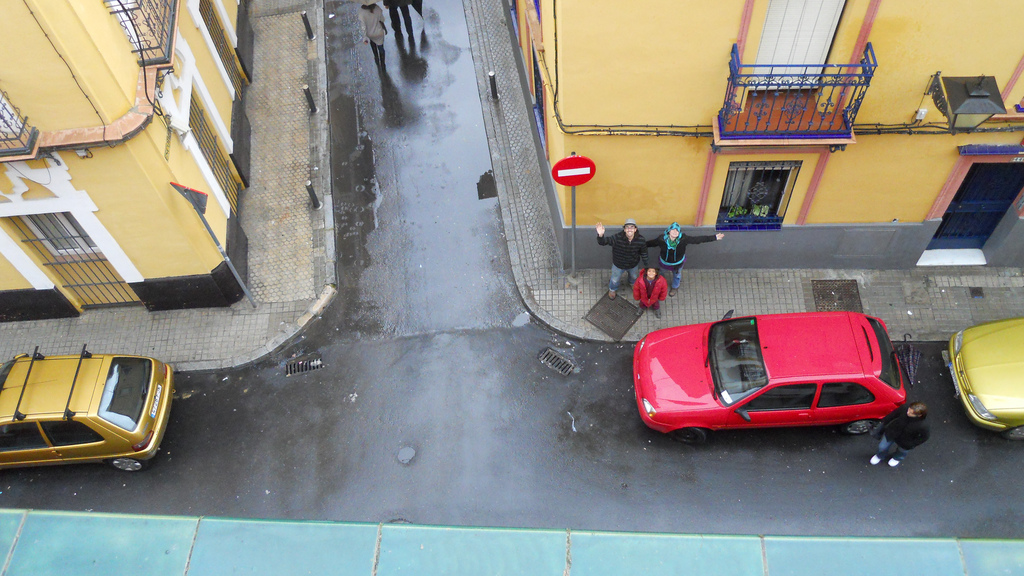 One strategy we use while travelling for an extended period of time in a place with limited vegan options is to rent an apartment where we can buy local food and cook. This strategy is a good idea in Sevilla where pork is an almost fundamental part of the diet. Our apartment in Sevilla for both our trips was located on a small street off of a larger plaza like area called la Alameda de Hercules, and around the corner from a small shopping strip called Calle Feria. The covered mercado (market) on Calle Feria was our favorite place to purchase our fresh fruits and veggies for cooking. Our first trip was in the winter and second in the summer, and of course, each had a slightly different selection of seasonal produce to choose from. A couple of our favorite items to grab from the vegetable stand were the figs and cherries, each selected by hand from the stand owner and offered to us wrapped in a paper cone.
One of the stands at the market also offers a small variety of health food items such as organic fruits and veggies, soy milk, gluten-free and whole wheat products, natural body care products and loose herbs. On both trips I got a small cold and the woman at the stand was extremely helpful, creating an herbal mixture that worked wonders. My son also begs me to add that he loved the pasta in the Italian imports store located inside.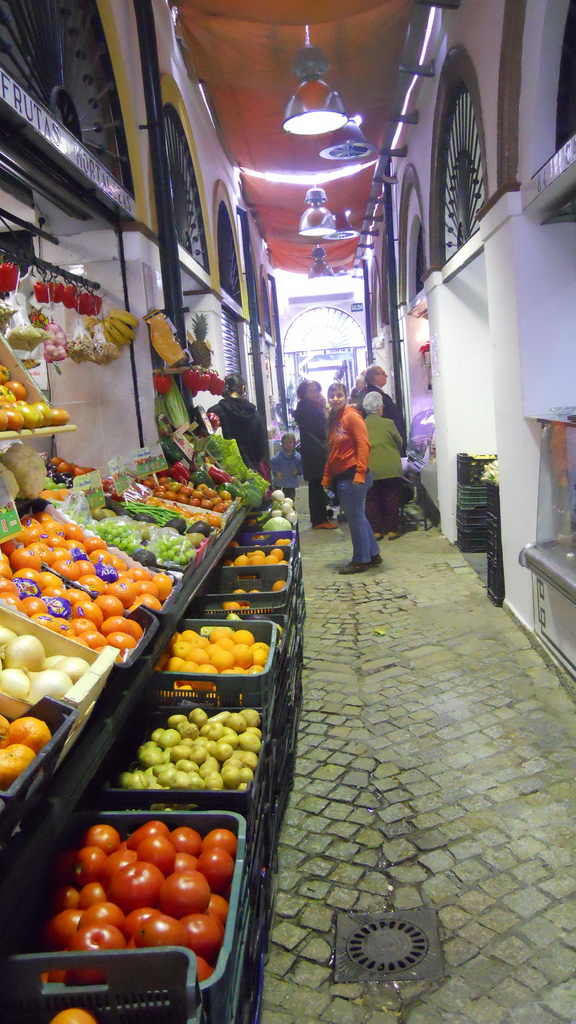 Doña Aceitunas, next door to the mercado on Calle Feria, was another essential place for us, because it was here where we would buy our meaty, fresh Spanish olives. We not only loved eating the olives, but the ritual of purchasing them.
My son found pure joy tasting the different varieties of olives to decide which was his absolute favorite. We would bring home bags of olives and clear them out in a day, forcing us to return the following morning.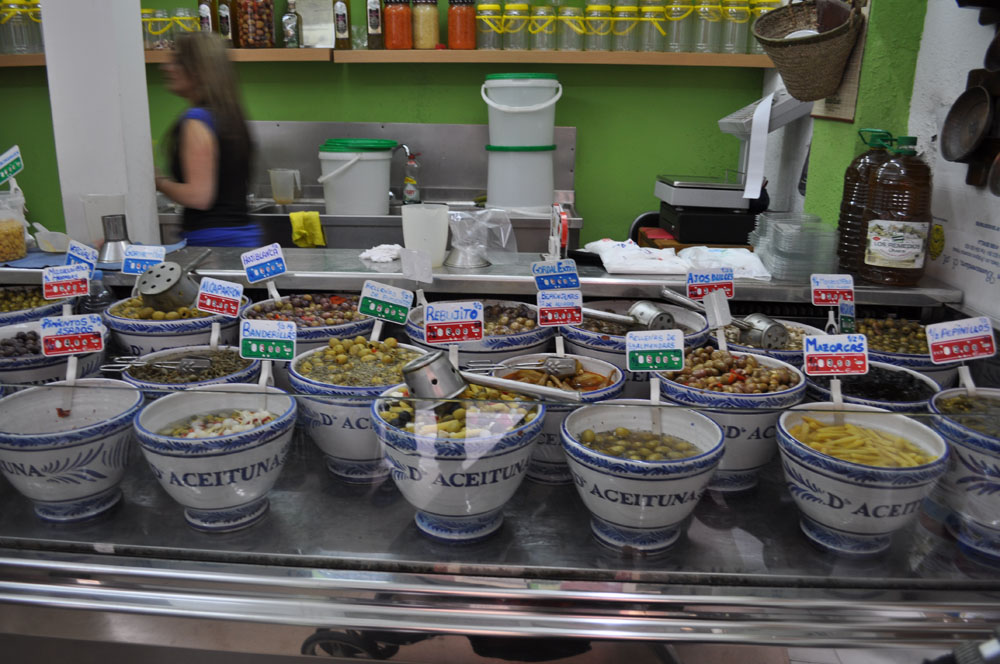 One of the things I most love about living in Sevilla is getting lost on a stroll. Our favorite street to begin a stroll would be down la Alameda de Hercules. The outer rim of la Alameda is lined with restaurants, cafes and bars, most with outdoor seating, open all day and way into the night. The inner part has play areas with fountains and benches to chill in. Parents, it can not get more family friendly! As you can relax at the cafe/bar outside, your children can stay entertained on the play equipment just steps away.
I must confess, most of the restaurants we frequented were not Spanish cuisine because, as I said, this cuisine is heavy with meat (which is so sad because I hear it is absolute divine food). However, we did find a couple of vegan friendly places to eat that we enjoyed.
One of the first places to stop on the Alameda stroll was El Badulaque for a cafecito or lunch. We would enjoy ordering their tasty pizza, with it's perfectly crisp crust, requesting it "sin queso" with whatever toppings we were in the mood for that day, almost always with olives.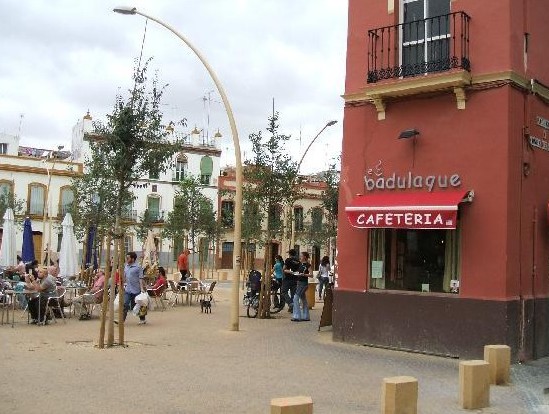 On the other end of the Alameda was our favorite dinner location, Jan Al Jalily, a restaurant of Middle Easter fare , and one of our absolute favorites. The Egyptian owner is incredibly sweet and was always excited to give us the best of his vegan spread. He was especially eager to please our son who loved his food, and even prepared him a special vegan meal one day.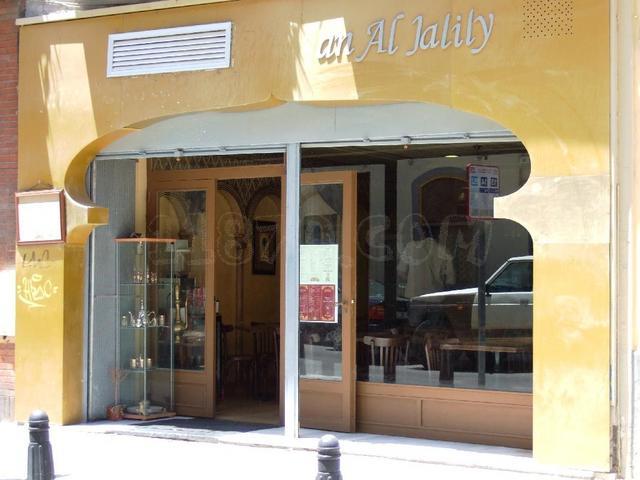 After dinner, or really any time of day, our favorite dessert spot was Heladeria Freskura, also located in la Alameda.
The sorbets are outstanding and fresh with a large selection of flavors to choose from.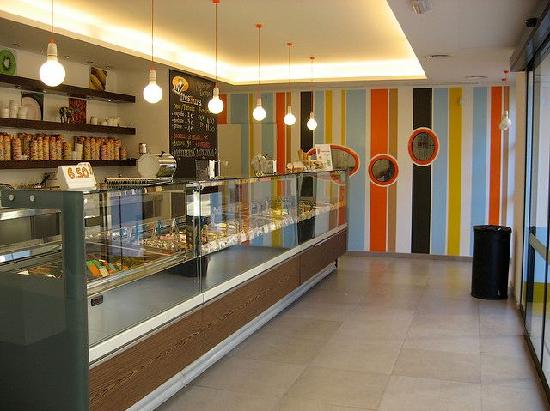 At night we would frequent just about any bar in la Alameda, often meeting friends from our flamenco school there. We would find a nice cosy outdoor seat and watch the diverse nightlife in unfold. What did we order you may ask? Well tapas would be the obvious choice, except for the fact that most of them usually were not vegan, or so we thought. I have since found a blog that describes a bunch of vegan tapas you can discover in Spain. Perhaps next time. But I certainly enjoyed the gazpacho, which is served just about anywhere, and my absolute favorite drink, "tinto de verano," which is a red wine and lemon-lime soda mixture.
But by far, our favorite place to enjoy a meal was at night right on the rooftop of our apartment building. Gaetano, our in-house chef, would prepare some extravagant vegan version of whatever Spanish food we found interesting, accompanied by a very inexpensive but super flavorful bottle of Spanish wine, and of course, olives. It was in this romantic rooftop setting that we would sit with the friends we made from all corners of the Earth from Gernmany to Sudan to Japan, and play music, laugh, and enjoy the Andalusian night air. It was also in this romantic setting, with our bellies full of olives, that our baby Caona was conceived… leading us to our next adventure…