Featured Song:
---
I first heard the legends of the amazing squatted spaces in Europe during my teen years in the punk scene. Friends in punk bands would tour Europe and come home raving about these abandoned buildings that would be re-occupied by activists and turned into thriving housing, music and art venues, activist meeting spaces, info shops and vegan cafes. I had always dreamed of touring the social centers of Europe when I was in my punk band Antiproduct, and 20 years later, I finally  got the opportunity to do so on the Break the Chains European Tour with Evan Greer, Gaetano and myself.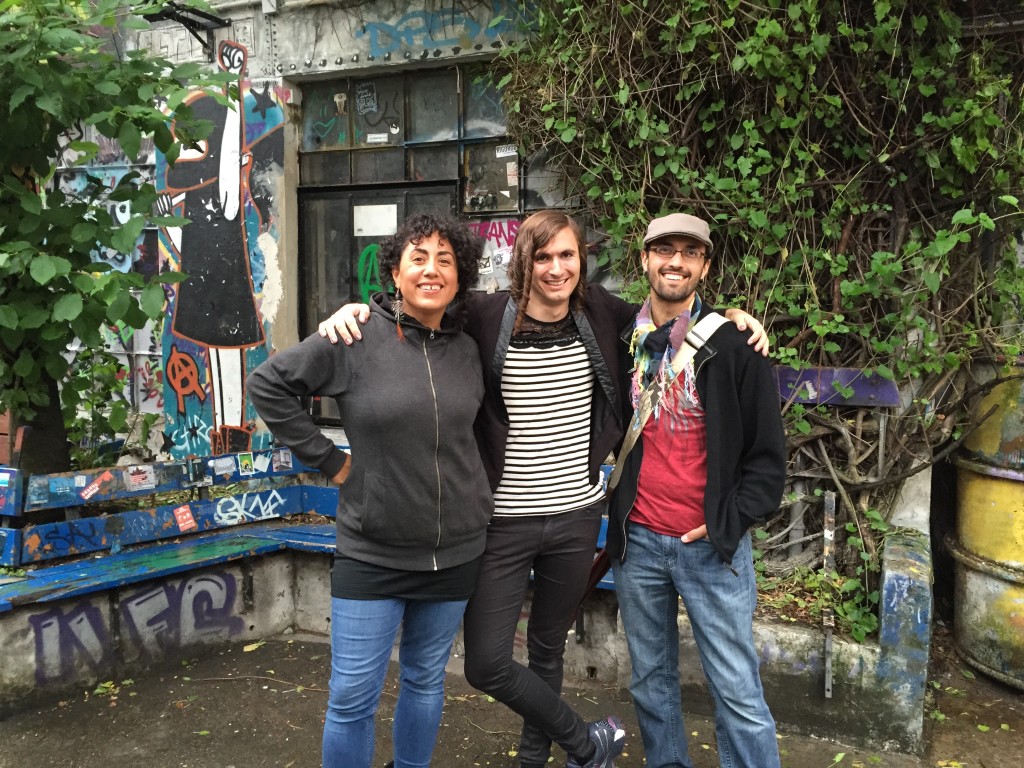 You can read more about the beginning of our tour adventure in my blogpost here, or about our full tour adventures in a blogpost by Evan Greer here, and check out a video montage by Gaetano here:
Visiting and performing in these spaces brought me back to everything I loved about the punk scene of the mid to late 90's. A time when people connected and organized together in person and not on social media. A time when we understood the importance of having a space outside of the mainstream to create the world we wish to see. And, most importantly, a time when hosts made touring musicians the most delicious vegan food.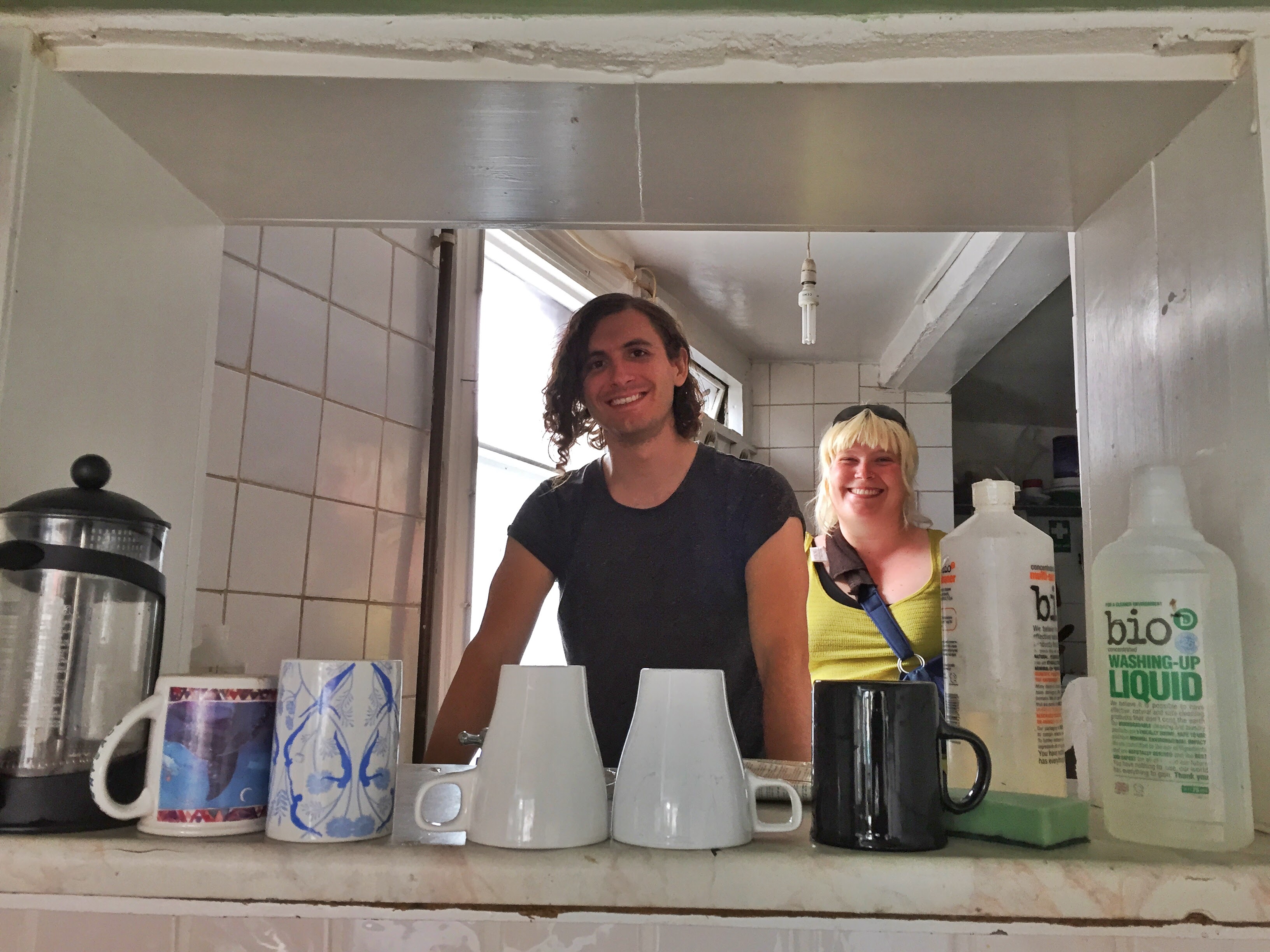 Many of the social centers we visited were either currently or formerly squatted, run by collectives, and most of them had been around for decades. A few of them we performed at had a regular cafe with vegan options during the week. Kebele in Bristol, England was the first social center we encountered with a regular vegan cafe. We arrived in the afternoon and watched as our hosts worked tremendously hard to prepare food for the large crowd of folks that would be arriving for dinner before the show. On the menu that night was black bean burgers, mashed potatoes, salad and cake, which were delicious and made with a tremendous amount of love and commitment to community. You can find more info about their cafe hours here.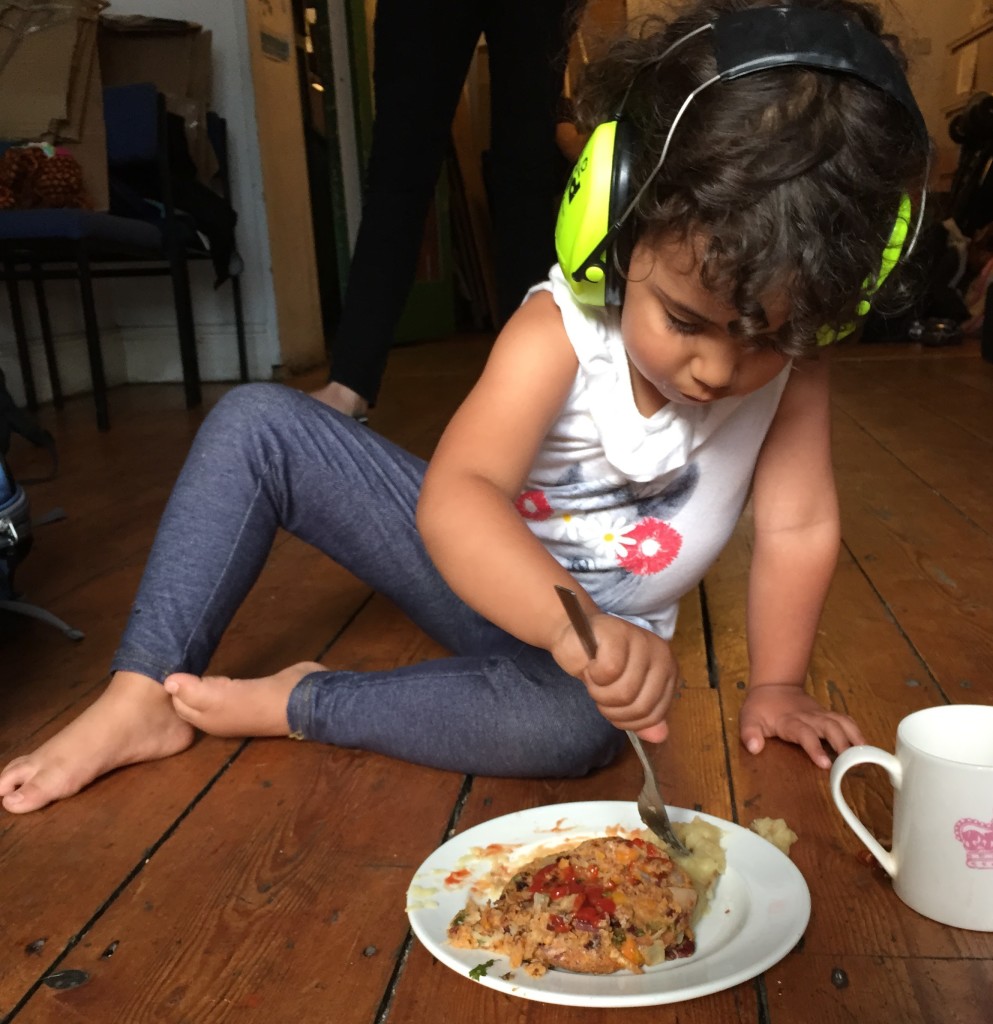 It is also worth mentioning that around the corner from Kebele is a place called Jeevan Sweets, where you can grab a very good quality and affordable plate of vegetarian Indian food, and choose from the most beautifully made Indian desserts. Our favorite was a sweet made from cashews that looked exactly like an apple.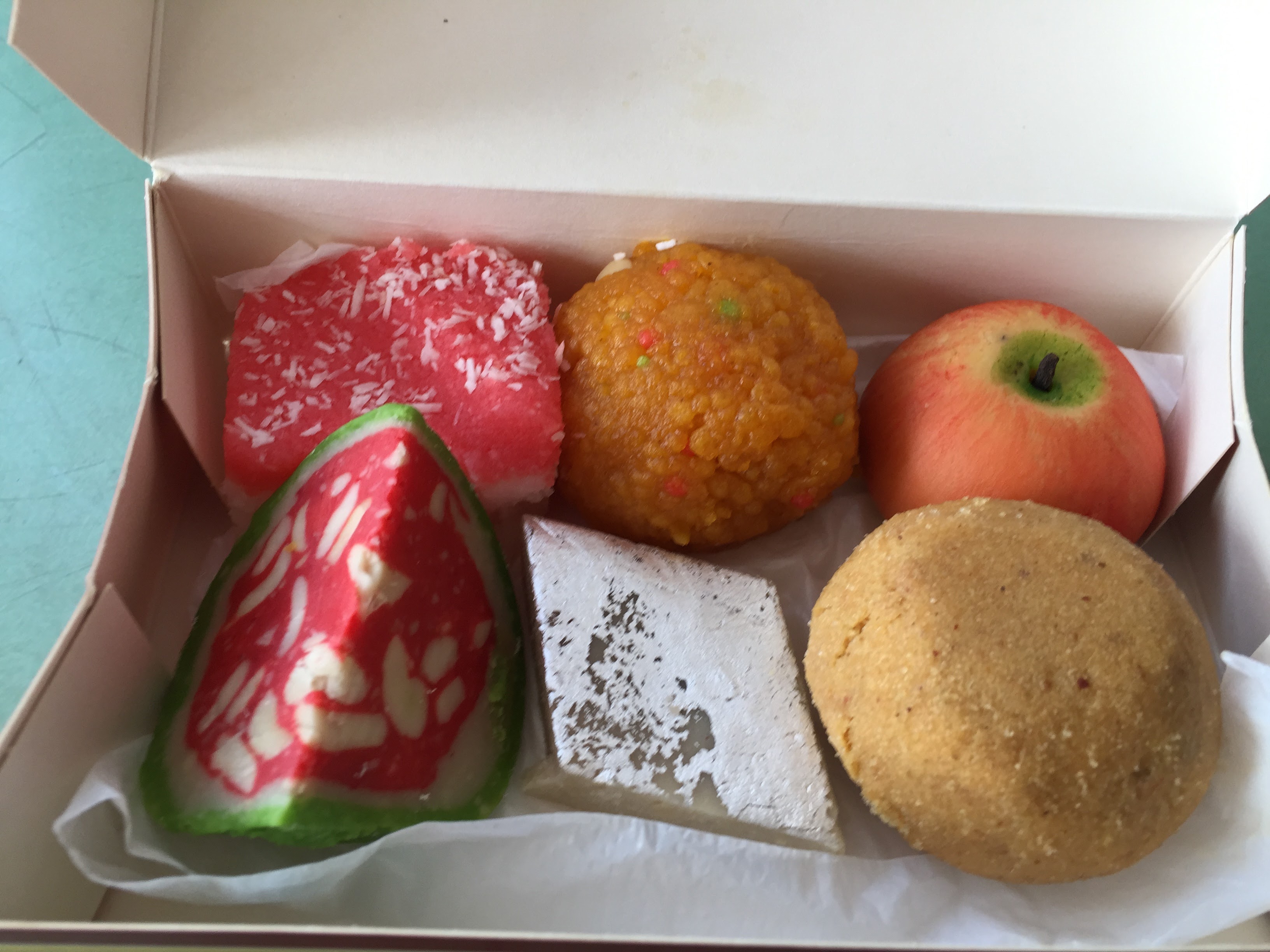 That night we had an incredible full house show, which we shared with the amazing folk-punk musician from Cardiff, Wales, Efa Supertramp.
While on tour in the Netherlands, we performed at another social center and vegan cafe called Knoflook (which means garlic in Dutch) in the city of Den Bosch. The day we performed was not their regular cafe day, which is usually on Fridays at 6:30pm. However, our host who usually helps cooks the food for the cafe made us the most delicious spinach soup, with fresh chopped cilantro to sprinkle on top, and fresh bread for dipping. I highly recommend stopping by if his cooking is a sign of what the regular cafe day is like.
Right after our show in Den Bosch we took the train straight back to Amsterdam to perform at a squatted venue and bar called Vrankrijk. We were performing on one of their weekly Wednesday queer nights,  and the place was already packed and bumping.  The crowd was ready to dance when we hit the stage. This was definitely one of my favorite performances of the tour. Apparently, they serve dinner on Wednesday nights before the music starts, but we missed it. I can only testify to the fun atmosphere full of warm faces and excellent dancing.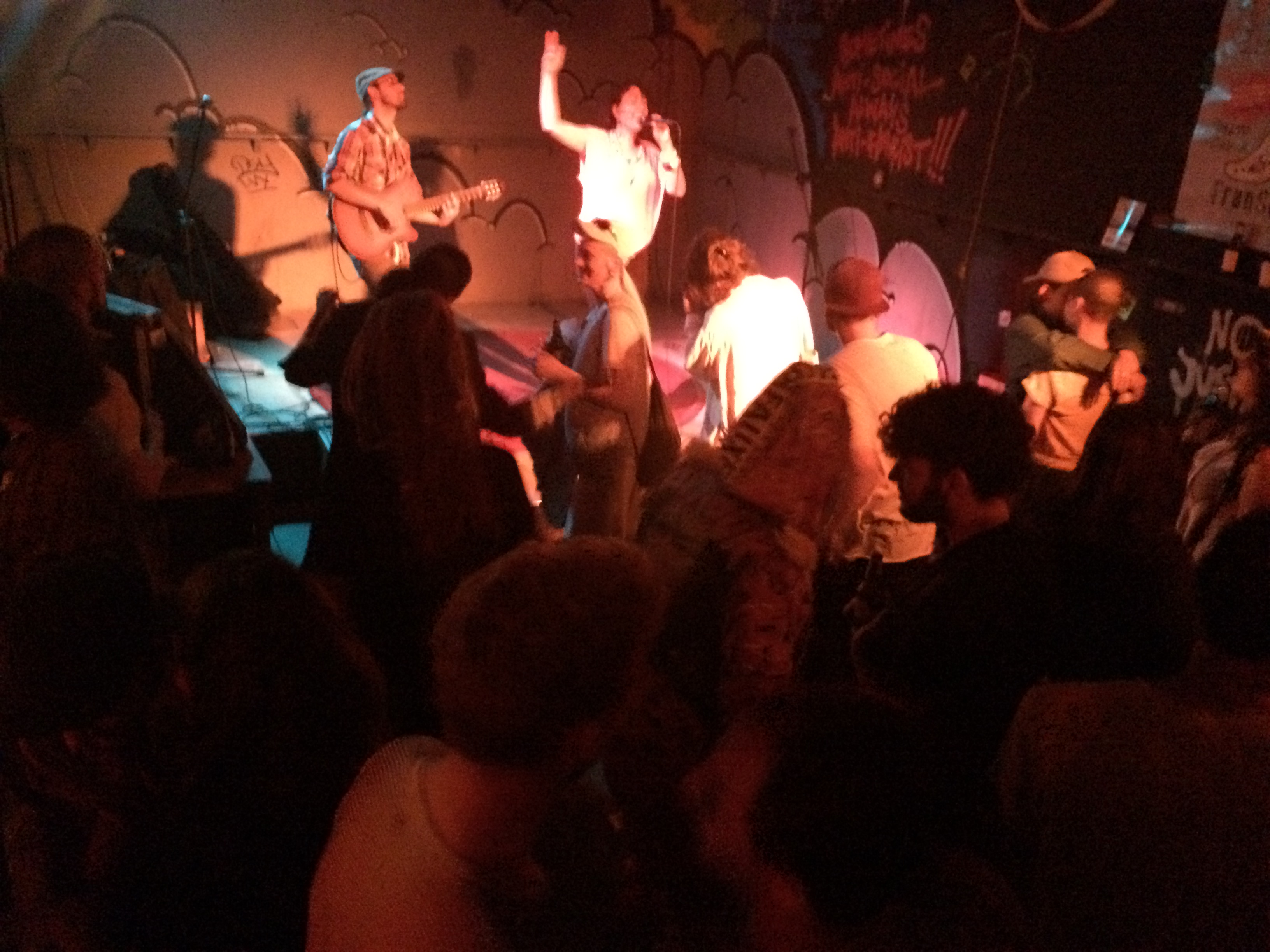 Another social center cafe we performed at in the Netherlands was Joe's Garage in Amsterdam. Joe's Garage is a small cafe space on the inside with a beautiful spacious eating space outside. The food was excellent, and perfectly filled our bellies for a very warm and intimate performance. I highly recommend reading a beautiful blog post by Andrea Anderson for a great description of the cafe and the night from an audience member's perspective. For me, it felt like walking into a family dinner, feeling like a stranger at first, and then part of the family by the end of the night. In fact, this is how it felt at almost every venue we visited in Europe. I look forward to another family dinner with them again soon.